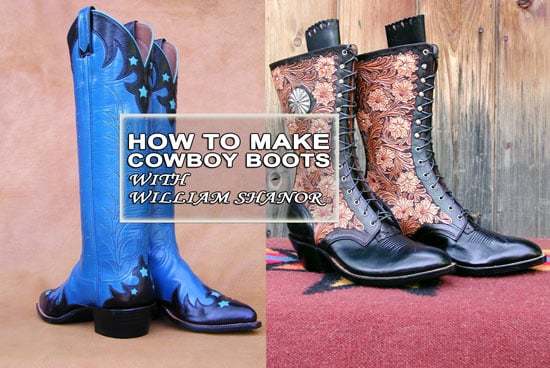 I always wanted to learn how to make cowboy boots and there is nothing better than to learn shoe making from a pro.  Although I am making shoes for years there is always something to learn and I don't think it will ever change. I am super excited about today's post, and I know you will be too when you'll see all the gold and diamonds. Today I have an awesome interview with you that I did with William Shanor. William is making cowboy boots for over than 30 years and he is also teaching shoe making at his own school in Ashland Oregon. Starting his career as a shoe cobbler, he learned the craft of boot making and developed his own style that you can see in the pictures below. 
In this interview we talk about boot making, focusing on the small details to understand how they are made. So, let's get right to it, my interview with one of our own members here at Shoemaking Courses Online, William Shanor from Bonney&Wills shoemaking school.
 Can you tell me about your background? How did you start to make shoes? And why you choose to focus on making cowboy boots?        
 I wasn't born into the shoemaking trade, but my father owned a men's retail shoe store. I worked there starting at twelve and helped out until I went to college at nineteen.  My undergraduate studies were in psychology and continued after college while I was in the Air Force, finally getting an MA.  I continued my studies, adding 50 more credits, but finally realized at twenty-seven that my passion was in my hands. So, off to Miami Florida and running the largest shoe repair in the South East. Two years of 252 customers a day and working for my Father was "crazy making", so off to Oregon in a VW Bus and three children……I must have really been crazy, but I truly loved working with my hands.
     Finally, after rebuilding 600,000 pairs of shoes, I said. "There has to be more than this….why not learn to make Cowboy Boots?" Considering I lived in Grants Pass, Oregon, making Western-style boots was the logical path into shoemaking. That was thirty-two years ago.
One of the most noticeable details about cowboy boots it's the decorations. Is there a traditional ornament that usually placed on the boots or each boot maker creates his own?  
Western boot designs are driven by tradition, region, and type of Cowboy. For example, there are Texas Cowboys, Great Basin Cowboys, Vaqueros, Vegas Glitter Cowboys and on and on.  However, three design elements can identify the specific maker of each pair of boots. The tongue shape at the top of the instep is number one. Lucchese, Ledy, Blutcher, Griffith, Paul Bond, Ray Jones, Lisa Sorrell, all are easily recognizable. Next, the toe stitching (medallion) and the cording pattern at the ball and toe are true signature elements. Also, many makers have a toe style that is associated with their boots, for example, the famous Lucchese L toe. 
The pattern of cowboy boots is pretty simple and the most difficult work that needs to be done is with the decorative elements. It's very hard to make the pattern of those elements ( sometimes there are  20-30 elements on the boot), I guess it's even harder to mark and assemble it accurately on the upper. 
Is there a technique that you can share on how you should transfer this kind of pattern to the upper?  
Of  course, stitch patterns are applied to tops using paper patterns that usually have been perforated by a sewing machine without thread in the machine.  As most patterns are bi-laterally symmetrical you can just fold the front and back panels and get the entire panel perforated by just sewing one side and then unfolding the panel.  Rubber cement is then applied to the grain size of the shaft leather, and the stitch pattern is pounced on with talc.  Some bookmakers make the back top panel bigger than the front top panel, so this creates a "balanced Look" problem. However, the wider back panel boot fits better and has a more elegant look.
With an overlay, underlay, cording, stitching and multiple layers of kid and kangaroo, boots sometimes can get complicated. The organization, thin elements, and planning make it all come together.  Too much cementing stiffens things up so the best technique is to use double sided tape in placing design elements before sewing…….a million uses and techniques…and no cement mess.
I noticed that cowboy boot last has shape and construction that is different from ordinary boot last. It has curved and extended instep and the heel construction like of a court shoe last. Usually, in the boot last, the heel line reaches the ankle and only then takes the shape of the foot. Why there is a difference between cowboy boot last and ordinary last? 
The extended instep is the result of the narrowing of the shank area. Cowboy boots were originally designed for riding with the narrower shank being preferred. The required instep measurement has to come from somewhere, and the "apparent" raised instep is the answer.  Because Cowboy boots use a thick oak tanned counter, not a slip in counter, they are very stiff at the counter.  If the counter sides were pinched like a traditional shoe, it would be even harder, maybe impossible, to get on. Cowboy boot lasts are therefore wider at the top of the last heel.
What are the tools used only by cowboy boot maker? 
In my experience, there are not any tools that are exclusive to Western boots. Two tools that are used more in Cowboy bookmaking are Crimp Boards (blocker boards) and crimp screws used to pre-stretch the vamps and tongue area. Also, many makers use special shank lasting pincers. (shanklasters).  There is no mystique associated with Cowboy boot construction.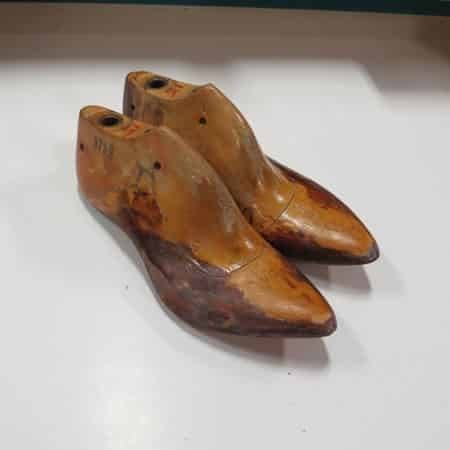 Why are the shoe counters sewed during the assembling of cowboy boot and not during lasting, like we do in ordinary shoes?
As noted, Cowboy boots use a thick oak tanned counter which is not slipped in between a liner and the quarters or counter piece. The counter is stitched to the back panel and then the counter piece is added and stitched completely through the back panel and the counter….a very strong construction. Many times a heel slide is added to the back panel adding one more layer to stitch through.
If I am not mistaken the upper and lining of cowboy boots are cemented together. It's not done in ordinary boots, so what is the reason you do it in cowboy boots? 
The top outer and lining are rubber cemented together for strength, ease of top stitching, and to facilitate side seaming.  Cowboy boots are made in two pieces, front and back, inside out, and then sewn together on the panel edges with a welt in between.  If the liners were not cemented to the tops, side seaming would be almost impossible.
How long it takes to make cowboy boots? and do you teach how to make cowboy boots at your shoemaking school?
 Construction time, as a rule of thumb, is about 40 hours but can range from 12 hours(the fastest I've heard) for hundreds of hours. I made a pair that took 155 hours, hands on.  I stopped teaching Cowboy boots, but have decided to begin again.  The course I plan will last three weeks and will be very unique. Two weeks will be dedicated to creating a traditional boot.  The final week I will teach four other Cowboy boot constructions methods: packer, one-piece top, two-piece Wellington, and triads.  Instructions and patterns will be provided. I feel once the basic boot is mastered, the final week's information will benefit the student for years to come.
It was hard for me to find the right place to learn shoemaking many years ago, and that is what drove me to share my knowledge and to teach how to make shoes. Why and how did you start your shoemaking school?  
 About 15 years ago I started teaching Renaissance moccasin courses.  But, I finally just decided to teach the "whole thing". I searched a long time for a good webmaster, put up a website, and "BOOM" we were off to the races….totally amazing!  Frank Jones was my mentor and motivator, not to mention giving me the domain name: shoemaking.com.  Such a dear friend and a fine human being.
Are your shoemaking courses suited for beginners and what shoemaking courses do you teach at your school?     
Yes, our courses are geared toward beginners. And, we expect them to work very hard and focus, because we cover: measuring, last selection and modification, pattern making, insole construction, cutting, closing, lasting,  etc.  They do every step to the maximum of their ability. I teach fashion pumps…beginner and advanced, men's dress shoes, hiking boots, fashion boots, Renaissance moccasins, stitch down shoes, and 
Western boots. I am developing an advanced, totally traditional, course for men's style shoes.  Frank Jones thinks we have the best teaching facility in the US, and we are constantly trying to improve it.  
I hope you found this interview useful, I know I made a full notebook of notes. As someone who loves Cowboy boots, I will sure try to make myself available to visit William school in Oregon to learn from the best.  I know some of the members here learned with William and you are more than welcome to share your experience here.
I want to say a big thank you to William Shanor for doing this interview and sharing his knowledge with us.  For more details about  Bonney & Wills shoemaking school you can find here . www.shoemaking.com/